Innovation
Bringing our best to the world
YOU INSPIRE OUR PRODUCT INNOVATIONS
Learn more about our newest products from around the world
Product of the North America Region
PERFECT CYCLE FOR THE PERFECT CLEAN
Industry's first Intuitive Touch Front Controls allow for unique cycles to care for clothing
FILL AND FORGET
Skip adding detergent to every load with the Load & Go™ bulk dispenser
INDUSTRY'S LARGEST CAPACITY AVAILABLE
Wash a week's worth of your family's clothes at once** with the industry's largest capacity available at 6.2 cu. ft.
Product of the Europe, Middle East and Africa (EMEA) Region
Product of the Latin America Region
Product of the Asia Region
TOUCH CONTROL
More convenient one-touch start control
DETERGENT DISPENSER
Automatic detergent dispensing can be used for one month before refilling
FABRIC PROTECTION
Innovative technology to help reduce wear on delicate fabric
FOCUSED ON WHAT MATTERS – MORE INSPIRED INNOVATIONS
Highlights from Whirlpool brand at the 2016 Consumer Electronics Show
Whirlpool brand wins nine CES Innovation Awards
Whirlpool Corporation, IBM Collaborate on Cognitive Solutions for Connected Appliances
Whirlpool Brand Brings Smart with Heart to CES
Product of the North America Region

Product of the Europe, Middle East and Africa (EMEA) Region

Whirlpool  brand:  Bringing together form and beauty in refrigeration
Award Winning Innovation
Recognized for cutting edge ingenuity driving the industry
Nine Distinct Storage Zones
Keeping foods organized, visible and ready to eat
Divide and Conquer
Customized settings to store a variety of items
Whirlpool  brand:  Elegant design and flawless performance
Award Winning Design
Winner of the prestigious European iF 2015 design award
Precision Cleaning
Powerful water jets deliver detergent deeply into fibers
Eco-Friendly Drying
Delivering outstanding energy efficiency and providing tips for optimal use
Product of the Latin America Region
Product of the Asia Region

Consul brand: Intuitive and flexible design delivering maximum storage potential
Height Adjustable Shelves
Simplified organization even when fully loaded
Folding Shelf
For flexibility with different item sizes
Organizers and Containers
Protect foods with multiple storage combinations
Whirlpool brand:  Delivering exceptional food preservation with an award winning design
2015 Good Design Winner
Excellence in form, function, quality, safety, sustainability and innovation
Preserving Freshness
Retaining ideal moisture levels and natural freshness
Precise Cooling
Delivering the most efficient cooling of each compartment
Product of the North America Region

Product of the Europe, Middle East and Africa (EMEA) Region

KitchenAid Black Stainless Appliances: A New Era in Kitchen Design has Arrived
New Visual Brand Language
First-ever black stainless steel finish in the appliance industry
Professional-style appliances without the commercial stainless steel look
Exclusive Performance Features
Burners: Even-Heat™  technology to ensure consistent cooking
Dishwashers: Nine-in-one dynamic wash arm for better coverage and superior cleaning
Whirlpool Supreme  NoFrost Refrigerator: Better Food Protection in the Fridge and the Freezer
Fresh Control
Protects food from spoiling
Freeze Control
Reduces freezer burns by up to 50%
Activ0
Store fresh meat and fish in perfect conditions
Product of the Latin America Region
Product of the Asia Region

Whirlpool Top-Load Washer:  Smart Load System for Deep Cleaning and Better Water Consumption
Water Fill System
3D Waterfall helps to remove residual soap and hard stains with superior washing results
Best Capacity
Basket  with special drum design for big loads – Perfect  for 1 Queen size duvet
Load System
Smart load level system that helps to reduce consumption of water and detergent
Diqua Front-Load Washer: WiFi Enabled Washing with Extraordinarily Quiet Performance
Connected appliance
WiFi enabled with 5 inch touch screen for easy control of the washing process
Vibration control
Direct drive motor and 3-D vibration control for extraordinarily quiet washing
Automatic dosing
Precise delivery of the liquid detergent for superior results
INNOVATION STORIES
Our Innovation
Dave Szczupak on Innovation
Casey Tubman on Innovation
Greenville Color Innovation
National Manufacturing Day
LAUNDRY INNOVATION

INVESTED IN AMERICA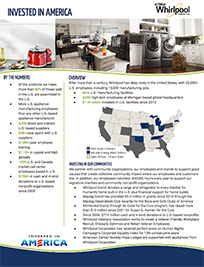 Learn more about our Investments in America
WHIRLPOOL BRAND EARNS NINE INNOVATION AWARDS AT CES 2016
INNOVATION NEWS
The Whirlpool Smart Kitchen Suite Gives Consumers The Ability To Control Their Kitchen Appliances With A Smartphone
Jan 6, 2016
("Whirlpool Brand Unveils New Connected Kitchen," AFP)
The Whirlpool Kitchen At CES 2016 "Includes A Truckload Of Smart Appliance Hardware
Jan 5, 2016
(Peter Galvin, "The Age Of IoT Is Here: For Consumers At Least," TechExec)
Whirlpool Corporation Showcased A "Smart Oven" With Nest Integration That Can Be Controlled By A Smartphone At CES
Jan 4, 2016
(Anick Jesdanun, "The Latest On Gadgets: This Year's CES Smaller — Yet Bigger," AP)
The "Kitchen Of The Future" Showcased By Whirlpool Corporation At CES "Includes Fridges That Help You Stay Trim And A Washing Machine That Knows What Time You'll Be Home"
Jan 4, 2016
(Ellie Zolfagharifard, "The Fridge That Checks Your Diet Plan And The Washing Machine That Knows When You're Home: Whirlpool Reveals The Kitchen Of The Future," Daily Mail)
Gizmodo's Andrew Liszewski: "What Makes These New Appliances Interesting Is That Whirlpool Has Upgraded Its Mobile App With Amazon Dash Replenishment Integration"
Jan 4, 2016
(Andrew Liszewski, "Whirlpool's New Washer and Dryer Automatically Restock Detergents Using Amazon Dash," Gizmodo)
The New Lineup From Whirlpool Corporation Takes "The Amazon Dash Experience A Step Further"
Jan 4, 2016
(Ryan Whitwam, "Amazon Dash Built Into Whirlpool Home Appliances," Geek)
Whirlpool's Smart Appliances From CES Feature Cutting Edge Cognitive Analytics From IBM
Dec 7, 2015
(Robert McMillan & Don Clark, "IBM's Rometty Bets On Consumer Product Partnerships," Wall Street Journal)
KitchenAid Bringing PANTONE® Color of the Year 2016 to Kitchen Countertops
Dec 3, 2015
(KitchenAid, "KitchenAid Bringing Pantone Color Of The Year 2016 To Kitchen Countertops," Wall Street Select)
KitchenAid Professional 6500 Design Series Deemed "Best Of All" After Consumer Reports Stand Mixer Tests
Dec 2, 2015
(Kimberly Janeway, "Top-Rated Gifts For Your Favorite Cook," Consumer Reports)
Whirlpool Corporation 8 Kg 6th Sense Supreme Care Washing Machine Is "Superb"
Dec 2, 2015
(Emily Leary, "Testing The Whirlpool 8 Kg 6th Sense Supreme Care Washing Machine," A Mummy Too)
Here at Whirlpool Corporation, we value innovation. We want you to connect with us when you have ideas to improve our products or to explore new business ventures. This site is the only way to connect with Whirlpool Corporation about your idea and your innovation. We only accept patented ideas in order to protect your intellectual property. Once your idea is submitted, we will get it in front of the right people at Whirlpool Corporation to determine its viability in meeting our consumer needs.
OUR INDUSTRY FIRSTS COME FROM PUTTING PEOPLE FIRST
We never let our passion for helping create today's special moments distract us from empowering even more purposeful innovations. We understand that innovation takes its first step backward when it stops moving forward. That's why we'll never stop pursuing new products that resonate with the people who use them. We work tirelessly to create exceptional design and purposeful technology that blends into the home rather than stands out in a house. Some companies want you to concentrate on them. We'd rather you concentrate on what matters most.
For more than a century, we've been innovating and implementing designs that free up more time for what's important. From the first washing machine to the first stand mixer to the first laundry pair with steam cycles, innovation is second nature to us and essential to our passion. We're extremely proud of our history of innovation, but we believe our greatest accomplishments are yet to come.
MOMENTS OF INNOVATION
Browse through our innovation "firsts" and learn about our purposeful innovation
FIRST ELECTRIC WRINGER CLOTHES WASHER
LOUIS AND EMORY UPTON
---
With the help of their business partner Lowell Bassford, Louis Upton and his uncle Emory started the Upton Machine Company in Benton Harbor, MI. They pioneered electric motor-driven wringer washing machines in 1911, which laid the successful foundation of the Whirlpool Corporation.
---
FIRST ICON KITCHENAID® STAND MIXER
KITCHENAID BRAND
---
The idea started when Herbert Johnson set out to streamline the way bakers mixed dough. The stand mixers found their way on to all U.S. Navy ships before eventually being found everywhere from homes to professional kitchens. The technology and shape has transformed the way baking gets done since 1919.
---
FIRST BOTTOM-FREEZER REFRIGERATOR
AMANA BRAND
---
Amana brand wanted to modernize the way the world stored food. Their teams recognized many customers didn't access frozen food as often as fresh food. Hence, the bottom-freezer was born in 1947, paving the way for a French door configuration.
---
FIRST SIDE-BY-SIDE REFRIGERATOR
AMANA BRAND
---
To appease households outgrowing the top-freezer model, Amana brand introduced the first side-by-side refrigerator in 1949. This revolutionary design made it possible for consumers to keep both fresh and frozen food at eye level. The innovation caught on rapidly and can still be found in homes all over the world.
---
FIRST SPACE KITCHEN DEVELOPED FOR THE U.S. GOVERNMENT
WHIRLPOOL CORPORATION
---
With a contract from the U.S. government in 1960, Whirlpool Corporation engineers took on zero gravity living. The kitchen included a miniature thermoelectric refrigerator, freezer, three-cavity oven, self-heated water system, storage space for food and disposal units. It was used in all of NASA's Gemini, Apollo and Skylab missions.
---
FIRST SELF-VENTILATED COOKTOP
JENN-AIR BRAND
---
Kitchen cooktops always had to sit under a hood until Jenn-Air brand modernized the way cooktops were installed in 1961. By creating self-ventilation, the cooktop could be fitted anywhere and in any size space. This innovation liberated home chefs everywhere to design kitchens around their needs instead of the cooktop.
---
FIRST COUNTERTOP MICROWAVE OVEN
AMANA BRAND
---
Amana brand introduces the first countertop, domestic 150-volt microwave oven, which costs just under $500 and is smaller, safer and more reliable than previous models. The market expands, cooking becomes easier and the Amana Radarange becomes the dominant player in the home microwave oven business.
---
FIRST 24-HOUR TOLL-FREE CUSTOMER SERVICE SUPPORT PROGRAM IN THE U.S.
WHIRLPOOL CORPORATION
---
Our customers have always been at the center of what we do. In 1967, sales rose to a level that required us to design a customer service program to match. This decision set a trend within the industry and a benchmark for large corporations worldwide.
---
FIRST ENERGY/WATER-EFFICIENT TOP LOAD WASHER
WHIRLPOOL BRAND
---
Whirlpool brand has never shied away from consumer needs—even when it meant redesigning an entire product. In 1998, to get ahead of a market trending toward sustainability, Whirlpool brand designed the first washer to exceed expectations in performance and resource savings.
---
FIRST LARGE CAPACITY FRONT-LOAD WASHER IN THE U.S.
WHIRLPOOL BRAND
---
Consumers get better at multi-tasking every year. Whirlpool brand recognized customers' needs to accomplish more in less time and innovated a solution in 1999. The large capacity washer design has permanently changed the industry and buyer expectations.
---
FIRST TOP LOAD LAUNDRY PAIR WITH A STEAM CYCLE
MAYTAG BRAND
---
Consumer trends revealed that not all laundry items needed a full wash cycle. In 2008, Maytag brand seized the opportunity to innovate a new way to enhance the laundry room experience by refreshing clothes with steam. This technology also relaxes wrinkles and reduces odors, and has become an industry staple.
---
FIRST INDUCTION DOUBLE OVEN FREESTANDING RANGE