At Whirlpool Corporation, we took decisive actions in 2011 to position our business for long-term growth in the face of the global economic recession and volatility. We achieved positive results, improving product price and mix and significantly lowering inventory levels. As a clear indication that our actions are working, our North America region realized a more than twofold year-over-year profit improvement during the fourth quarter.
We are committed to driving further growth through our brand value-creation strategy — focusing on margin expansion by delivering consumer-relevant innovation, providing the industry's best service to the trade and our consumers, and driving lower costs and higher product quality in every aspect of our business.
2011 RESULTS
Our actions in 2011 created increased efficiencies and positioned the business for sustained growth and value creation. These steps were important in the face of high material costs and soft demand that continued globally throughout 2011. The North America market remained at recessionary lows, and we saw high inflation and low consumer confidence slow the rapid growth rates that we have seen the last two years in emerging markets. Europe remained the most challenging region from an international perspective as the European financial crisis drove particularly weak consumer demand across the euro zone.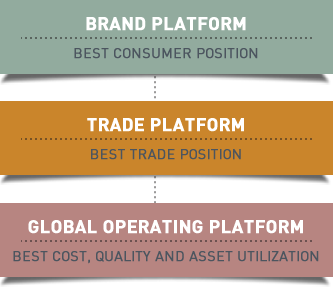 Revenue
$ in billions
Our revenues grew 2 percent to $18.7 billion in 2011, and diluted net earnings per share were $4.99 compared to $7.97 in 2010. This was largely due to higher material and oil-related costs of approximately $450 million.