Our CommitmentsOur Science-Based Approach
30 Percent Reduction in Emissions From Products and Operations by 2025 Against a 2005 Baseline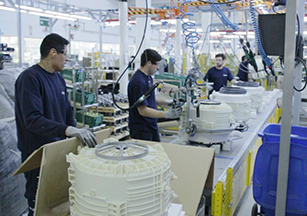 After achieving our energy- and water-intensity goals three years early, Whirlpool is working toward significant new science-based greenhouse gas emissions (GHG)-reduction goals. These targets aim to exceed the reduction targets of the original U.S. commitments to the Paris Accord. In addition to our absolute emissions target, we set new global and regionally specific targets to reduce the energy and water intensity of our operations.
In 2017, after reaching our 2020 energy and water efficiency reduction targets three years early, we set more ambitious goals related to GHG emissions in our operations and products: By 2025, a 30 percent reduction in Scope 1 & 2 emissions from our 2005 baseline.
Whirlpool has developed a new Global Emissions Management System to determine our global footprint in all regions and models, tying over 12 unique systems into one global reporting capability to improve transparency and accuracy. This system is able to track data from a baseline year of 2016 in a systematic way. The system uses energy and water label usage and consumer usage data to calculate lifetime product-in-use emissions. In 2019 we will be updating our goal using the Science Based Target initiative (SBTi) methodology, as our data shows we have improved over 50 percent from 2005 calculations.
Our commitments align with regional and global initiatives for sustainable development: