Validating Our
Strategy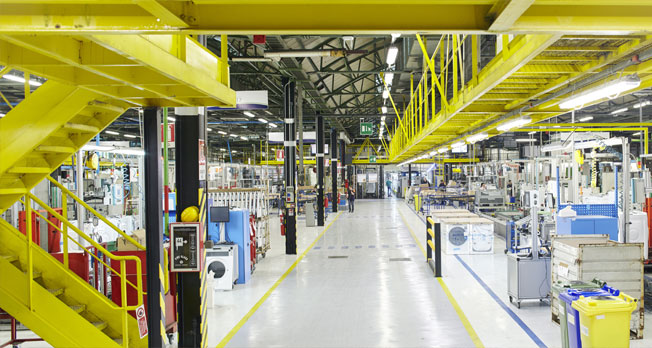 Our sustainability strategy was guided by an external expert, using a multiple stakeholder sustainability materiality process that was completed in late 2016. This was followed by quarterly internal executive steering committee reviews on strategy and progress. The process included competitive benchmarking, stakeholder interviews and online surveys. The resulting matrix was finalized by a cross-functional team representing key internal stakeholders. We subsequently updated our Europe, Middle East and Africa (EMEA) strategy with an ISO 26000 review undertaken in 2017. We plan to revise our sustainability materiality matrix in 2019 based upon additional engagement with stakeholders. The objectives of our sustainability materiality processes are two-fold:
Inform/validate sustainability strategy, programs and initiatives

Provide the foundation for subsequent sustainability reporting that will be prepared following the GRI Standards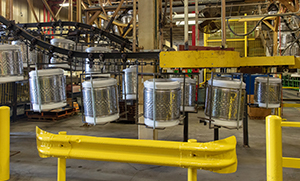 Sustainability Materiality Matrix
The use of "material" or "materiality" in this report is not related to or intended to convey matters or facts that could be deemed "material" under U.S. securities laws or similar requirements of other jurisdictions.
Our materiality matrix is the result of a sustainability materiality assessment with internal and external stakeholders. They were asked to define their point of view in terms of key items to be considered, their interpretation of relative "importance" of those items to our company and their interpretation of our company's relative "performance" for those items.
Progress Against Sustainability Priorities
In 2018, we made significant progress to address our top 10 sustainability priorities.
Our Products
Our Progress
Product Quality and Safety
At Whirlpool Corporation, we believe in an unwavering commitment to product safety and quality. Our product safety system is one of the industry's leading systems; the system includes a set of policies, procedures and guidelines to ensure safety is prioritized and designed throughout the entire product development process. All products must meet industry standards, be certified by a third party and meet Whirlpool product safety standards.

Whirlpool also has in place a robust process for monitoring the field for potential safety hazards, conducting field safety investigations, performing analysis and reporting of potential safety hazards to safety authorities as required by statute. Our product quality system is being continually refined to ensure we achieve best-in-class quality. In 2018 and across all regions, Product Quality achieved even lower failure rates when compared to previous years, as a result of our focus on continuous improvement.
Innovation
With the changing competitive landscape, it is more important than ever to lead with innovative, leading-edge products that meet consumer needs. In 2018, our global platform approach allowed us to reduce complexity and leverage global scale in our innovation and product design.

In 2018, Whirlpool's innovation pipeline delivered approximately 100 new products largely focused on our kitchen and laundry portfolio.
End of Life
In 2018, in our EMEA operations, through industry-related collective third-party consortiums, at the products end-of-life, we collected over 280,000 metric tons of materials, that is equivalent to more than 4.6 million appliances being recycled.

In the U.S., Whirlpool recycles appliances we receive as part of a haul-away service when we deliver products that are ordered through our employee product purchase program, Whirlpool Inside Pass. When new products are delivered to a consumer, the consumer has the option to have the delivery service haul away their old unit. We also recycle obsolete products. In 2018 in the U.S., the company collected and recycled over 230,000 major appliances.

In our Latin America region (LAR), Whirlpool led the initiative to form ABREE — Association for Brazilian Recycling of Electrical and Electronic Appliances, an industry-funded organization that is working on policy for driving a national recycling program in Brazil. ABREE acts at a national level to establish an effective reverse logistics operation for the entire industry.
Restricted, Controversial and Toxic Materials
In 2018, we continued our efforts to track chemicals throughout our supply chain, progressing toward the global rollout of the product steward system. The third-party system is capable of collecting, assessing and documenting material composition to the chemical level for all materials and parts. A regional pilot in Europe concluded at the end of the year, and plans were finalized for the EMEA launch during Q1 2019. Learn more
Responsible Sourcing
We emphasized audits of top-tier suppliers with a specific focus on China suppliers in response to the China Air Pollution Action Plan, in which we accelerated our suppliers' actions to reduce the amount of air, water and noise pollution. Whirlpool's Supplier Code of Conduct formalizes the key principles under which suppliers to Whirlpool and our global subsidiaries operate. The principles in the Code, which was updated in 2018, describe Whirlpool's expectation for its suppliers in regard to identified business practices. Learn more about our Supplier Code of Conduct.
Climate Change
In 2017, we set absolute, science-based, carbon emission-reduction goals to achieve a 30 percent reduction by 2025 from 2005 levels. To improve transparency, we have developed a new global emissions management system to determine our global footprint in all regions and all models, unifying over 12 unique systems into one global reporting capability. This system is able to track data from a baseline year of 2016 data in a systematic way, greatly improving our ability to act strategically to lower the footprint of our product portfolio. We anticipate the significantly improved system will lead to potential improved science-based goal setting in 2019.

As part of our new focused strategy and programs, Whirlpool has established a program dedicated to carbon management to drive improvements and opportunities in addressing climate change and current and future carbon regulations.
Our Plants
Our Progress
Environment, Health and Safety (EHS)
In 2018, Whirlpool implemented our first global EHS IT solution. This global cloud-based software platform improves data management, enables easier tracking for regulatory compliance, better maintains a safe workplace through the monitoring of open actions and risks, and protects the health of employees and the public. Training, communication, data migration and project change management activities began in Q2 of 2018 and will be ongoing in 2019. The software was successfully implemented across all four regions, including all China sites, between October and December of 2018.
Energy Conservation
We advanced against our energy efficiency intensity targets internally and simultaneously decreased both plant emissions and costs. We now collect data on a monthly basis to drive improvements and we are also providing specific plant and regional dashboards to our regional and site EHS representatives.
Compliance
In early 2019, Whirlpool Corporation launched its refreshed Code of Ethics ("Our Integrity Manual"). Our Integrity Manual was developed at the direction of our CEO and with input from every region and function,to be a practical, active leadership tool, focused on our "Right Way" guiding principles.

This new Integrity Manual includes a set of 18 ethical- and values-based principles, focused on doing what is right for consumers, right for our people, right for our Company and doing business the "Right Way." It is designed with specific examples and practical applications in order to guide day-to-day actions and behaviors. Additionally, it provides interactive tools on issues like ethical decision making, and detailed information as to how to find additional resources. The rollout of the new Integrity Manual began with a commitment session with the entire top global leadership of the Company. These sessions and training, along with other engagement activities will ramp up significantly throughout 2019.

At the regional level, in Latin America we prioritized strengthening systematic communication with middle management and manufacturing employees, focusing on promoting the discussion over respect, diversity and safety in the workplace.
Community Investment
In 2018, Whirlpool Corporation continued to work with organizations to strategically create better communities and focus our collective resources to make the biggest impact. We worked with more than 1,000 organizations globally and our employees contributed 268,000 volunteer hours. Altogether, 1.6 million individuals benefited from Whirlpool Corporation contributions.