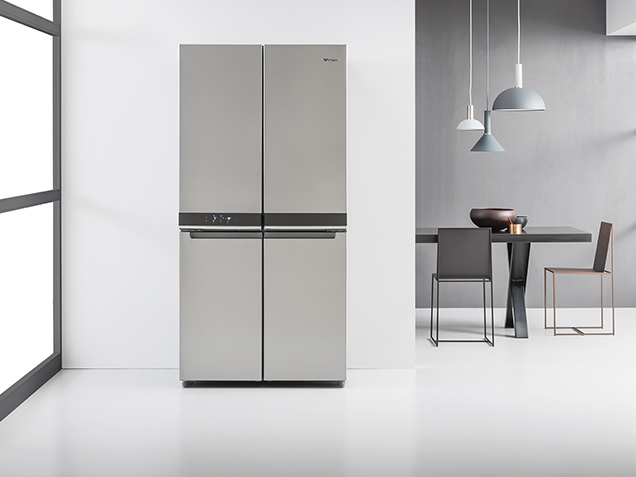 Our Initiatives:
2018 Highlights
Energy Consumption: Products in Use
Whirlpool's legacy of innovation in efficiency and performance has shown significant gains, driving a nearly 50 percent reduction in emissions in the last decade, while providing high-quality and high-performing products. We have driven these efficiency improvements while improving capacity and innovative features and functions. However, as improvements in efficiency and regulation drive down our Scope 3 emissions in use, volume growth and consumer preference can impact absolute emissions reductions, particularly in emerging markets where growth is toward larger appliances.
With that said, in our new Global Emissions Management System, our data now shows we have exceeded our 30 percent reduction goals from 2005 levels, a recognition of the significant work and innovation we have driven in our products around the globe. As we work in 2019, we will analyze ways to set science-based absolute targets, to drive and integrate them into our pipeline of innovation.
Expanding our Commitment to Circular Economy
An important way we're making products more sustainable is by increasing the quantity of recycled materials utilized in their manufacture, thereby reducing inputs of virgin natural resources. Whirlpool EMEA is taking part in the European Commission's voluntary pledge campaign to reduce plastic waste and increase the use of recycled plastics.
The EU initiative is part of a broader plastics strategy promoting a more circular economy and protecting the environment from plastic pollution, while fostering growth and innovation. The objective is to ensure that, by 2025, 10 million tons of recycled plastics find their way into new products in the EU.
Whirlpool is working with our suppliers to ensure the adoption of recycled material for 100 percent of major plastic components in our EMEA product portfolio, including components of washing machines, refrigerators and dishwashers. We will implement these changes over the next seven years. Our commitment will result in more than 44,000 tons of recycled plastic being used in our European products by 2025. The pledge includes the use of recycled polypropylene with mineral filler and polystyrene, in compliance with RoHS and REACH regulations.
Here Today: Sustainable Products That Break New Ground
The year 2018 saw the introduction of numerous products incorporating features that deliver greater environmental efficiency. Among them:
Hotpoint Active Washing Machine
In the EMEA region in 2018, Whirlpool's laundry product portfolio was enhanced by the introduction of the Hotpoint Active Washing Machine. Its innovative ActiveCare system includes Active Load technology, which uses just the right amount of water and time for each wash. The model offers a wide range of cycles to make it easier for users to choose the way they want to care for their laundry. Features for time or resource savings are easy to select, thanks to dedicated buttons: for faster laundry, the Rapid option can reduce time by up to 50 percent, while the Eco option reduces energy consumption by up to 20 percent for better environmental performance. With this wealth of innovative technologies and availability of economical and powerful cycles, the new Active washing machine offers an excellent combination of superior cleaning and efficiency with an A+++ energy rating, the EU's highest ranking for energy efficiency.
Hotpoint 45cm Dishwasher
Another new Whirlpool EMEA product that earned an A++ energy efficiency rating, the Hotpoint 45cm Dishwasher features ActiveEco technology. Its superior performance is made possible by an innovative system,which automatically opens the dishwasher's door during the drying phase. It allows natural air to freely enter the machine for enhanced drying performance with minimal energy use.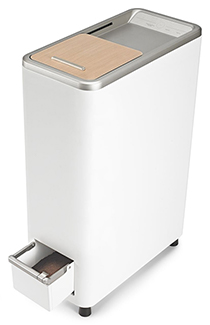 Zera Food Recycler
Coming to consumers in the North America region, the Zera Food Recycler is a state-of-the-art kitchen appliance that turns today's food waste into tomorrow's fertilizer. The Zera system — developed by WLabs, Whirlpool Corporation's innovation incubator — is the first indoor recycler in the United States that converts a week's worth of food waste into ready-to-use homemade fertilizer in as little as 24 hours.1 The Zera food recycler brings purposeful innovation to consumer kitchens and aligns with the increasing demand for more environmentally driven solutions for the home.
1 Based on estimated 3.5 kg household food waste for average U.S. family. Additive required and sold separately.
Hotpoint Active Quattro Freezer with Active Defrosting
This addition to our EMEA cooling offering provides maximum efficiency for consistent freezer performance with energy savings. Thanks to innovative sensor technology, the freezer's highly effective adaptive defrosting function is activated only when necessary, thereby ensuring reduced energy requirements.
Consul Split Air Conditioners
Another Whirlpool brand serving Brazilian consumers, Consul introduced a new air conditioning product line that has two main features: the Maxi Refrigeração chills the environment two times faster, and Maxi Economia improves heat exchange efficiency, saving 5 percent more energy when compared to similar products in the marketplace.
Brastemp Double Wash
In the Latin America region, Brastemp now offers the only washer in Brazil with two independent baskets that can operate at the same time. The Brastemp Double Wash's exclusive technology allows different fabrics and colors to be washed with different soaps, softener and water. And when there is not a full load of clothes to be laundered, the smaller basket can be used to save water.
Collaborative Research to Drive Innovation
To continue to drive innovation and environmental efficiency, Whirlpool invests in "out-of-the-box" thinking through initiatives that seek to explore and redefine the role our products can play in living more sustainably.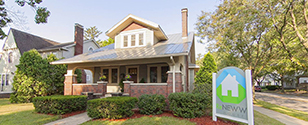 ReNEWW House: Purdue University
On the campus of Purdue University in West Lafayette, Indiana, ReNEWW house continues to develop both our talent and innovation pipeline, driving ecosystem development across our products and the home. The house is a live-in research laboratory for exciting new ideas on how consumers, their homes, systems, appliances and the grid can all work together to operate in a more environmentally responsible fashion.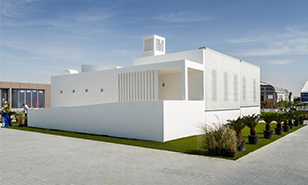 ReStart4Smart Project: Solar Decathlon Middle East 2018
In EMEA, Whirlpool and other partners collaborated in the ReStart4Smart project developed by La Sapienza University in Rome to compete in the Solar Decathlon Middle East 2018. Held in Dubai in the United Arab Emirates, the project's goal was to create the best "Solar House" prototype. Whirlpool leveraged our latest innovations in design and home automation. The kitchen and laundry rooms in the house of the future were furnished with Whirlpool technologies, and the suite of home appliances was equipped with 6TH SENSE LIVE technology that redefines the way people interact with their household appliances, making it simple, enjoyable and energy efficient.
Critical Materials Management
At Whirlpool Corporation, we recognize that our products live in two high-traffic spaces of the home — the kitchen and the laundry room. For this reason, it is vital that we ensure neither our products nor our manufacturing plants introduce harmful substances to our employees, our consumers or our planet.
Our global Critical Materials Management (CMM) team coordinates and monitors the Whirlpool Restricted Material's List, assessing and mapping the list contents within our manufacturing plants and supply base. Suppliers are requested to adhere to our Restricted Material List and report on banned, restricted and monitored substances of concern. The Restricted Material List is woven into supplier contracts and part approval processes and is updated annually to reflect new legislation and customer requirements.
A New Online Tool Drives Progress
In 2018, we advanced efforts to track chemicals throughout our complex supply chain, working toward the global rollout of an integrated online tool for exchanging, processing, mapping and storing chemical composition data. The global inventory drives our dematerialization efforts, alternative material sourcing plans, and chemical and material phase-out strategies. It's an approach that arms our engineers and designers with robust data to influence sustainable, healthy and comprehensive design and decision-making from the very beginning of the design process.
A regional pilot of the online tool concluded at the end of 2018, and plans were finalized for an EMEA launch in Q1 2019.
LIFE MATHER for Stronger Compliance
Compliance applications and global compliance programs can be costly. Last year the CMM team was the recipient of a Life Environment and Resource Efficiency grant in partnership with National Technical University of Athens and T2i, an Italian nonprofit agency. The grant funds support the Full Material Disclosure program and Compliance System rollout in Whirlpool's European facilities. This project, called LIFE MATHER, began in July 2017 and will run through 2020.
The LIFE MATHER project explores the link between the compliance system and a life cycle analysis (LCA) tool outputting environmental and health impact targets, demonstrating how chemical monitoring data can drive proactive compliance. The design phase, identification of users and technical requirements are now complete. The MATHER data management tool will be tested and validated involving various Whirlpool products in the EMEA rollout, which began Q1 2019.>
Looking Ahead
As we continue to strengthen our CMM processes and capabilities, we are mindful of two considerations:
Our mission extends well beyond the collection of material composition data — using that data to make better and safer design decisions.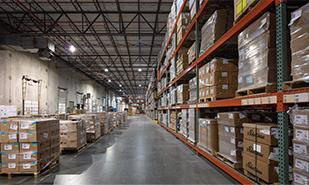 Our global supply base are our collaborators in this process, and we need to work together to identify and replace chemicals and materials of concern.
Full Material
Disclosure from
0%
of Our Global Suppliers
by 2020
We are proud to be working toward a goal of 100 percent knowledge of chemicals and materials of concern. We will continue to raise the bar on disclosure requirements by requesting full material disclosure from 100 percent of our global suppliers by 2020.