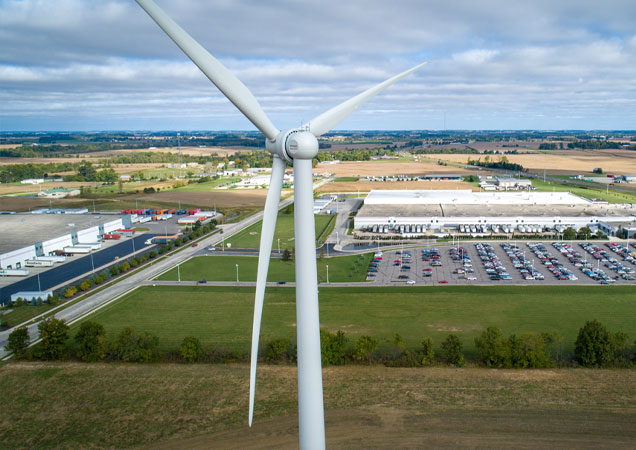 Our Initiatives:
2018 Highlights
Energy and Renewables
Whirlpool is a leader in deploying on-site renewable energy systems and in 2018 that leadership continued to grow.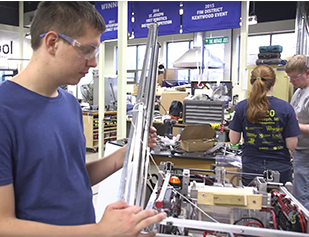 At four of our North America manufacturing facilities, wind turbines are installed to significantly reduce each facility's electric consumption from the grid. These highly efficient generation systems produce zero GHG emissions. Our newest installation is comprised of three wind turbines at our Greenville, Ohio, manufacturing facility, where they are expected to offset an estimated 70 percent of the plant's electricity consumption. That is generation capacity equivalent to the electricity required to power 1,200 residences. The Greenville project brings Whirlpool Corporation's total on-site renewable energy program in the U.S. to nine wind turbines at four Ohio plants: Findlay, Marion, Ottawa and Greenville, with total generation capacity equivalent to powering 3,500 homes.
We magnify the beneficial community impact of our renewable fleet with an accompanying program to support STEM education. For each turbine, Whirlpool creates one $5,000 Megawatt Scholarship, which is awarded each year the turbine is in operation. The scholarships are targeted to support local students as they pursue two- or four-year college degrees in STEM fields, preparing them for the technologies and industries of the future.
Manufacturing is inherently energy-intensive, and there are abundant opportunities to save energy and drive efficiency by implementing new practices and better technologies. At our Manaus, Brazil, plant, the local team identified a more energy-efficient alternative for operating the biological water treatment facility. Converting from a conventional motor to a new compressed air system reduced energy costs by 80 percent. At the same plant, replacing traditional forklifts with electric pallet lifters reduced costs and eliminated about 13 tons of CO2eq emissions annually.
WCM: A Driver of Continued Progress
Whirlpool has been manufacturing products for 108 years, and continuous improvement has always contributed to our success. But underway today is a manufacturing renaissance – supported by the deployment of Whirlpool Production System (WPS), now embedded with WCM principles. It's a great opportunity in our history that we have had a truly globally aligned manufacturing strategy that is being executed in precisely the same manner across all of our regions. The adoption of WCM is a multiyear journey – and we anticipate a host of benefits in safety, cost, quality, energy efficiency and environmental performance as this multidimensional, holistic production system takes hold across the enterprise.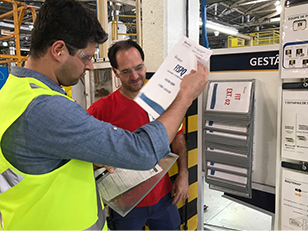 Energy
WCM is built upon 10 managerial pillars and 10 technical pillars, one of which is Environment (which also includes Energy). Identifying how energy is being used, and where it can be saved, is fundamental to improved operations. We're adding energy monitoring equipment and submetering, down to the individual machine level, to provide a much more granular picture of energy usage throughout the workday. At our Joinville, Brazil, facility, a Power Monitoring Expert energy control system and an additional 100 energy meters have been installed, providing detailed data on manufacturing processes and reducing energy consumption by 750,000 kWh per year.
At our five manufacturing facilities in Italy, we have deployed more than 400 energy meters for all energy types (Electricity, Natural Gas, Thermal Energy and Compressed Air), to provide similarly detailed energy consumption information with subsequent efficiency improvements. The project will also leverage these best practices to the other plants Whirlpool has in Europe.
Plastic injection machinery – which uses heat to vacuum form plastic blanks for appliance interiors – presents a major opportunity to reduce energy use and cost. Today we are purchasing new process equipment with better controls that can be up to 40 percent more energy efficient. We're also taking measures to improve the efficiency of legacy systems. In Brazil, WCM teams noticed that the plastics injection process was consuming more energy than expected because of heat loss. Thermal blankets were applied to the injectors to conserve heat, and frequency inverters were added. Combined, these improvements save nearly 1 million kWh per year.
0%+
companywide recycling rate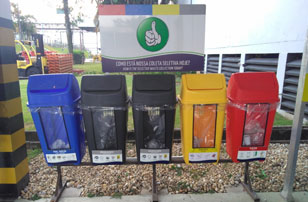 Waste
On Whirlpool's journey to zero waste to landfill, many small actions add up to big progress. Companywide we have now reached a recycling rate exceeding 96 percent, with our EMEA region leading the way, recycling more than 97 percent of waste materials. Eight of our global manufacturing facilities have achieved zero-waste status, including three in EMEA, two in India and three in Brazil. Among our nonmanufacturing facilities, a total of 14, including 13 in EMEA and one in Brazil, have achieved zero-waste level. These improvements reflect not only robust waste diversion processes, but also increased awareness and sharing of information among Whirlpool employees.
At several global locations we have adopted a new, cost-effective way to manage our waste disposal and recyclable processing. Responsible waste management expands beyond our industrial sites as well. At our North America campus and Global Headquarters in Michigan, waste and recyclables are collected in separate bins that are in centrally located areas in our buildings – as a practice, we have been adopting and expanding to various locations. This reduced the resource consumption individual waste bins can create and encourages employees to reuse or recycle before tossing something away.
At our plant in Rio Claro, Brazil, members of the facility's environmental team hosted residents of the local community for a presentation on waste management and how proper practices can help protect local water sources. More than 100 attendees participated and took part in planting native tree seedlings in a preserved area.
These initiatives contribute to both cost savings and improved efficiency by generating more recyclables and less waste to landfill.
0%+
companywide recycling rate
Water
Water is one of our planet's most threatened natural resources, and reducing the water intensity of our operations is a key element of Whirlpool's sustainability strategy. Collectively, improved processes and technology have resulted in a reduction in our water consumption of nearly 10 percent from 2017 to 2018.
Our manufacturing facility in Joinville, Brazil, offers an example of how thinking smarter about operations can translate into reduced water usage. There, the facility harvests rainwater for use in manufacturing processes such as thermoforming and plastic injection, for firefighting systems and in restroom toilets. In 2018, the local team identified an opportunity to increase the volume of rainwater harvesting and to use it in the painting process. The water harvesting area was expanded, and the plant now reuses 1,200 m3 of rainwater per year in the painting process. Taken together, these efforts have helped reduce the plant's water intensity by 7 percent in just two years.
Facilities
Constructing, managing and retrofitting our facilities to achieve a high level of environmental performance is an important way we continue to become a more energy-, waste- and water-efficient organization. In February 2018 we certified as LEED Silver our new 1.1 million square-foot Whirlpool regional distribution center in New Kingston, Pennsylvania. The facility's features include an HVAC system controlled by a fully automated building management system, as well as robust humidity and environmental control systems.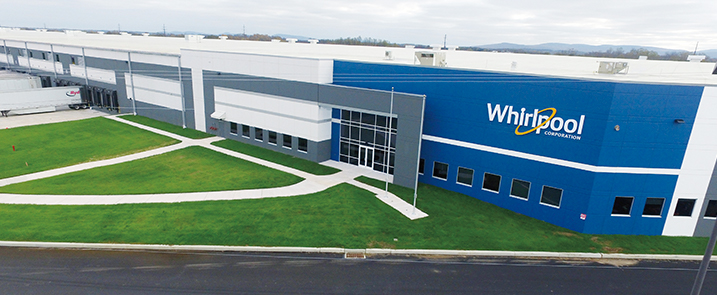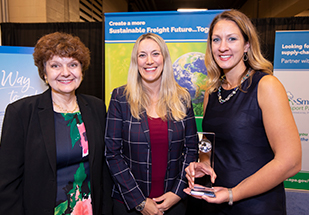 Logistics
Ensuring that the more than 68 million products we manufacture and sell annually reach their destination in the most energy- and environmentally efficient manner possible is the job of Whirlpool's Integrated Supply Chain organization. In the U.S., their strong performance was again recognized in 2018 as they earned a fourth consecutive U.S. Environmental Protection Agency (EPA) SmartWay® Excellence Award. The EPA SmartWay program is dedicated to helping companies advance supply chain sustainability by tracking and improving clean, efficient freight transportation. The program recognizes just 1 percent of the EPA's more than 3,700 top freight supply-chain partners.
Whirlpool was one of only 12 shippers to receive the Excellence Award in 2018 and was recognized in the large shipper category, which represents companies that move products more than 500 million miles annually. Whirlpool requires its contracted carriers to be registered with SmartWay, with 99.58 percent of North American shipments moved annually by SmartWay carriers.