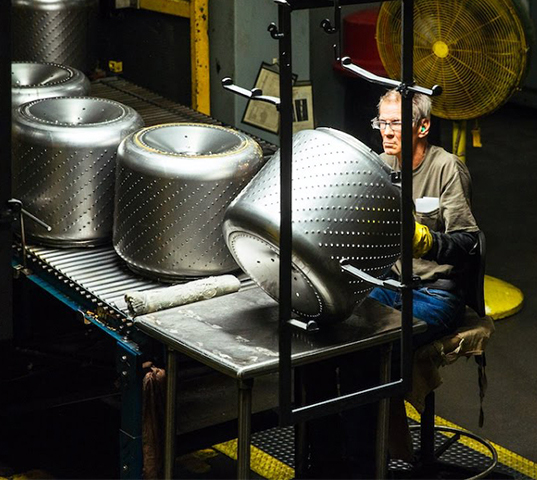 Environment,
Health and Safety
At Whirlpool we believe it is not acceptable to put an individual or our environment at risk. We continue to fortify an organizational culture that integrates occupational health and safety through a focused emphasis on:
A zero-risk mindset that recognizes unsafe conditions and unsafe acts;
Operational discipline in the management of health and safety in our plants and offices; and
Our belief that people are the center of our business.
In 2018 we took significant strides to strengthen our EHS processes and performance, including the deployment of our first global EHS IT solution. We also revamped our EHS and Sustainability policy, a revision that was signed by our CEO, Marc Bitzer.
The implementation of WCM methodology across our global sites has enabled increased focus and accountability for safe workplace practices. WCM methodology leverages the involvement of all employees to continuously improve environment, health and safety performance. As our sites have progressed in their level of WCM maturity, we have seen a significant improvement in employee involvement in EHS management, a reduction in the number of incidents, unsafe acts and unsafe conditions, and a marked improvement in the quality of risk assessments in our model areas.
To strengthen our commitment to Environmental, Health, Safety & Sustainability (EHS&S) excellence, global standardization and a proactive safety culture, in 2018 the EHS&S team delivered several global procedures and a global data management system. Enhancements included an updated global procedure that establishes the minimum requirements for locking and tagging out energy sources to protect individuals from injury; a risk analysis process that provides a standard framework for assessing risk at all global locations and a common global language concerning occupational risk; as well as a global cloud-based software solution to manage the EHS work effectively, improve regulatory compliance, maintain a safe workplace and protect the health of employees, contractors and the public. The new cloud-based platform vastly reduces manual processes. It also enhances our ability to go beyond compliance to achieve increased EHS&S performance and, ultimately, transformative change.
Total Environmental Protection
Expenditures and Environmental KPIs
Environmental Protection
Expenditures(U.S. $ in millions)
0%
Sites ISO
14001 certified (% total)
%
Sites ISO
18001 certified (% total)
0%
Sites ISO
50001 certified (% total)
Environmental Protection Expenditures do not include remediation costs
Health and Safety KPIs
U.S. Occupational Safety and Health Administration accidents
reported x 200,000 hours/total hours worked