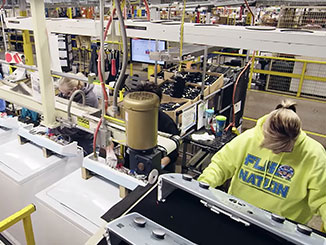 Plant Strategy
Achieving excellence in manufacturing offers many benefits – better product quality, lower costs, safer workplaces and reduced waste, energy consumption and emissions. It creates an enterprise that is both more competitive and more environmentally responsible. As Whirlpool continues to strengthen our capabilities and performance in manufacturing, the environmental benefits are front and center of our decisions on capital investments, process improvements and how best to engage and train our employees.
The Whirlpool Production System (WPS) is our uniform global platform to drive manufacturing excellence throughout our 41 plants in four global regions. Today we are embedding world class manufacturing (WCM) principles into our WPS (including the Environmental and Energy Pillars) which calls upon us to identify and implement ways to conserve energy and water, as well as reducing waste and emissions.
Reducing the energy and water intensity of our operations and achieving zero waste to landfill at all our facilities is a multiyear journey. As we pursue our goals, we will continue to remain committed to renewables to help power our plants, to energy efficiency improvements at every step of the manufacturing process, and to best practices and improved technologies that reduce emissions, conserve water and reduce waste.