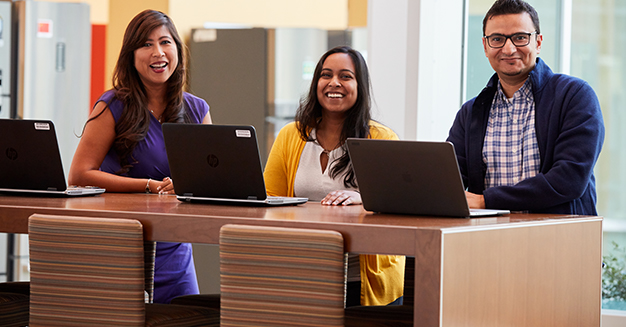 Diversity
and Inclusion
Our approach to diversity and inclusion is straightforward: we value all people, regardless of gender, race, ethnicity, nationality, age, sexual orientation, religious beliefs, physical ability or any other visible or invisible disability. In fact, it is these differences, and our unique backgrounds and experiences, that provide the diversity of thought, great ideas and innovation needed to grow our business. That is why we strive to create an inclusive culture that celebrates and values diversity and maximizes the difference it can make for our employees, our consumers and our communities.
Setting a Higher Standard for Gender Equality
In 2018 Whirlpool Corporation CEO Marc Bitzer made an organizational and personal commitment to the Catalyst® CEO Champions for Change. This new pledge is a public commitment to increase Whirlpool Corporation's female representation in executive and senior-level positions. It will help ensure accelerated inclusion of women, including women of color, in senior roles during the next five years.
ERGs: Expanding Their Vital Role
Valuing our differences allows everyone to contribute to their fullest potential. Our Employee Resource Groups (ERGs) are essential to attracting, engaging and retaining a diverse workforce and creating an inclusive workplace. Originating at our North American and Global headquarters in Michigan, Whirlpool's eight ERGs are quickly expanding around the globe. They include:
The Whirlpool Asian Community: Cultivates Asian culture and infuses its vast benefits into our business and communities.
Awareness of Visible and Invisible Disabilities (AVID): The AVID Employee Resource Group is dedicated to providing Whirlpool professionals and consumers with disabilities opportunities to reach their full potential.
The FOCUS Network: This African-American network is working hard to build a culture of excellence within our local community and our overall corporation through professional development, coaching and advancement.
Hispanic & Latino Network: Members come together to share work experiences, provide career development opportunities for members and support local communities.
Pride Network: Whirlpool has become known as a great workplace for LGBT employees. Our in-house Pride Network aligns our values of Integrity, Respect, Diversity and Inclusion, Teamwork and a Spirit of Winning.
Whirlpool Veterans Association: Recruits, trains and retains veteran talent and involves their families.
The Whirlpool Women's Network: Empowers and engages women at all levels within our corporation and community to ensure that all voices are heard. Activities like Coffee Chats, sponsorship programs and career compass workshops provide exposure to leadership and promotes career success.
Young Professionals Network: People of all ages join the YP! to achieve extraordinary results within their career and community.
Earning Recognition as an Inclusive Organization
Whirlpool has earned recognition from well-respected organizations for our leadership in diversity and inclusion. We have attained a perfect score from the Human Rights Campaign's U.S. Corporate Equality Index for 15 consecutive years.